Seamlessly Transfer Sales and Business Information
Salesforce is a Customer Relationship Management (CRM) platform commonly used by sales teams to collect and organize customer information. Quick Base extends the benefits of Salesforce by taking information collected from the sales team and seamlessly transferring it to the project delivery side of the business. Essentially Salesforce works well for lead and sales tracking, and Quick Base works well for project fulfillment and delivery. Together Salesforce and Quick Base are a powerful solution.
The integration of SalesForce and Quick Base is a step towards full Enterprise Resource Planning (ERP). ERP refers to all the various processes that are essential to running a business, including inventory and order management, accounting, human resources, customer relationship management (CRM), and beyond. ERP software integrates these various functions into one complete system to streamline processes and information across the entire organization.
The integration of SalesForce with Quick Base creates a shared database that supports multiple functions used by different business units. This means that employees in both accounting, project management, and sales can rely on the same information for their specific needs.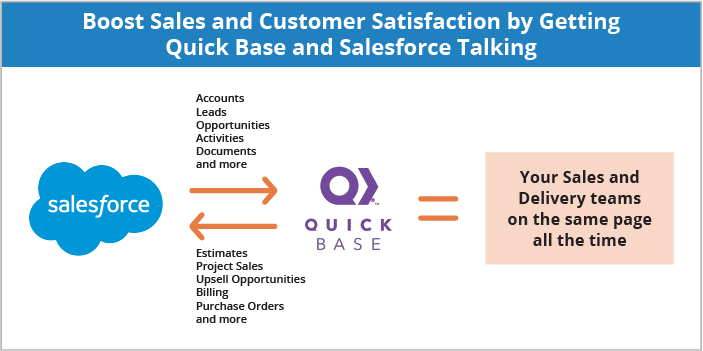 Link Sales to Order Fulfillment
Linking Salesforce with Quick Base one of the most effective ways of linking your internal sales team to the project fulfillment and delivery process. When a project closes, an integration with Quick Base can help get all of the relevant information from the Salesforce to your dev teams, ensuring a speedy, accurate, and properly scoped kickoff to the project. In many environments Quick Base becomes a tracking device for the delivery of goods, services and projects.It also helps protect against any information being lost between the two systems.
The integration of Salesforce with Quick Base will:
Streamline the process of entering orders into Quick Base.
Streamline the entry of customer information essential to order fulfillment.
Synchronize information back to Salesforce.
Facilitate the tracking and delivery of projects.
Help Salesforce stay updated on the status and changes to the order.
Allow teams to work in the systems they are used to and track from sale to order fulfillment.
Create seamless and faster delivery of projects.