Cloud Application Development with VeilSun
VeilSun was formed with a deep passion for helping businesses solve complex problems quickly and cost effectively using cloud based technologies. Harnessing the power of the cloud, our Rapid Application Development team specializes in cloud app development tools, services, platforms, and custom solutions that uniquely fit your needs.
Business First. Value-Based Innovation.
In every project we have a single-minded goal — to get our client to value as quickly as possible. We achieve this through understanding your business and goals in the Technology Blueprint and letting these guide us through the development process. In other words, we translate your strategic vision into a technology reality.
Strategic Partners. Not Developers.
VeilSun is a one-stop cloud app development company. When you engage with us, you're getting a talented pool of consultants, project managers, configuration experts, software developers, and integrators. We won't just develop a cloud application for you, we'll become strategic technology partners in your business, helping guide the ship toward your desired business outcome.
Quickbase Cloud App Development
Our Quickbase App Development Methodology
Our QuickBuild Solution Methodology is specially designed to work with Quickbase. By using an iterative Agile approach, QuickBuild makes development on the Quickbase platform highly efficient and produces better applications in less time and for less money than traditional methods of software development. At VeilSun, we employ best practices and have honed our methodology over many years of working with Quickbase clients. Our customers report great satisfaction because we deliver genuinely useful software—on time and on budget.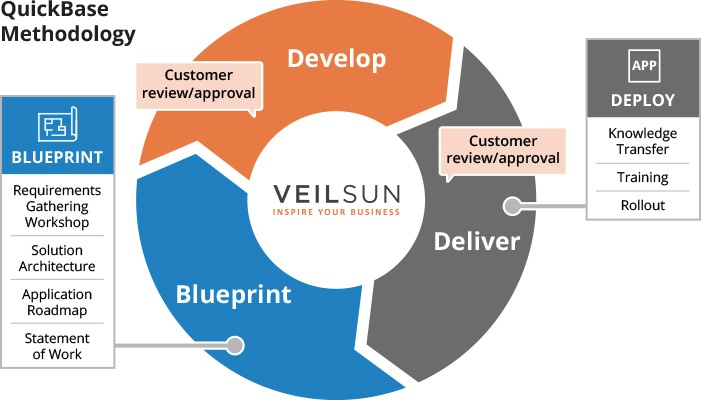 Blueprint
Everything starts with a Blueprint Workshop. It is through this one-day, face-to-face, facilitated session with the client representative and key stakeholders that we gather, analyze and fine-tune our client's needs and requirements from both business and technical perspectives. Not only do we map out the technical requirements for a project, but we also take into account our client's unique business realities. Our main goal is to maximize our clients' return on investment (ROI) and ensure the alignment of their needs and goals. From there, we develop the high-level architecture, the solution business strategy and, finally, the project blueprint.

Develop
During the design and development phases, we devote meticulous attention to technical excellence and good design. Weekly customer touch points give clients a way to review and approve the solution as it's being built. With QuickBuild, there are no surprises. All along the way, we consider the client our partner to ensure that what we deliver is exactly what they ordered. We believe continuous customer or stakeholder involvement is very important. Finally, the application is rigorously tested. Both unit testing and User Acceptance Testing (UAT) are employed to ensure every solution is working perfectly.

Deliver
During the rollout phase, we work hand-in-hand with our client to ensure a complete knowledge transfer and provide any end-user training that may be required. Before we leave, we make sure our client can begin to realize the benefits of their new solution immediately.
Quickbase Cloud App Solutions For Any Industry
Quickbase cloud solutions can be used to solve many different organizational issues for small and large businesses. VeilSun can help companies realize the value of Quickbase in the following areas:
Accounting
CRM
Executive Reporting
Human Resources
IT Project Management
Marketing
Professional Service Automation
Project Management
Supply Chain
And many more.
Cloud Based Applications Integrations
Workflow management apps
Apps for specific departments
App integrations by tool
etc.